Office design and furnishing become management tools and key success factors for your company. Functionalism and ergonomic. Corporative culture. Optimized logistic. A stimulating atmosphere that motivates staff to be productive. Modular systems.

SQart

Back


SQart Furniture System
Is a furniture system that provides almost limitless office furnishing solutions. This system enables you to create a range of combinations that are ideally suited to fit your space making SQart totally practical. SQart allows the realization of a wealth of goals and meets the variety of wide ranging requirements of interior designers, sales people and clients alike. To clients it offers an opportunity to create a number of comfortable, practical and efficiency-enhancing workstations.
Designer Andreas Krob.

Prices without VAT, before discounts.
About furniture elements prices and fitting of office furniture please contact with office.

Individual approach to each order.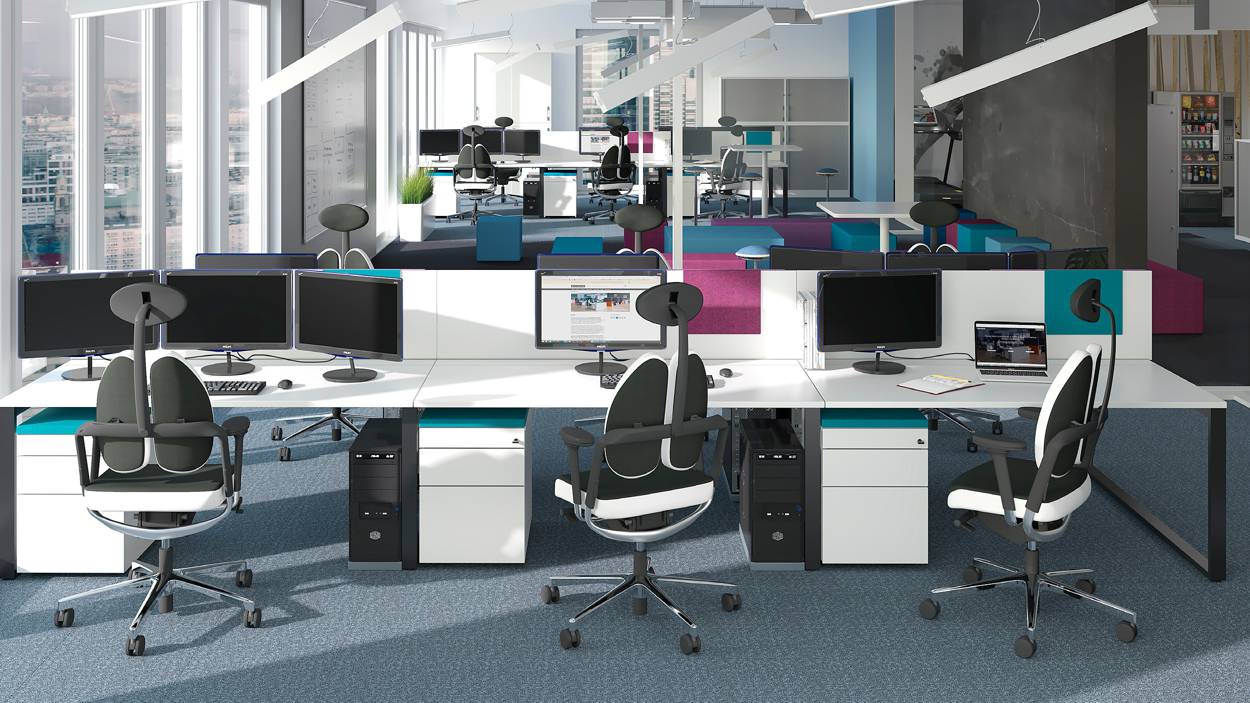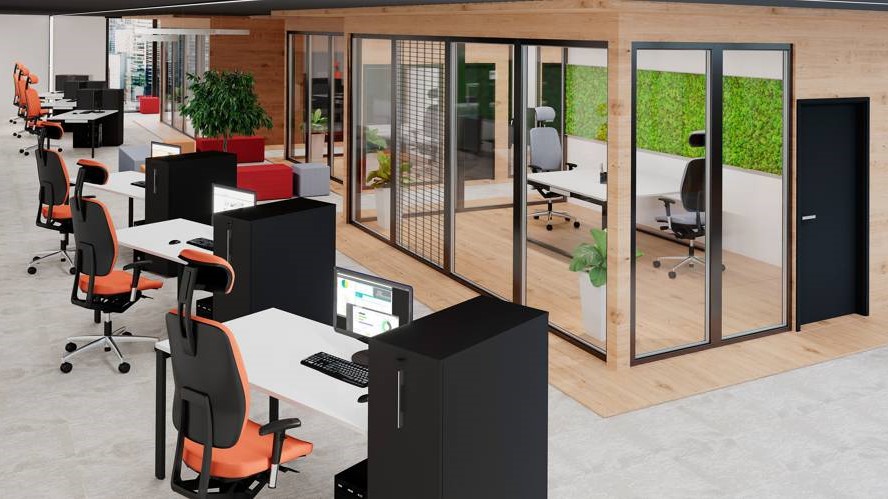 Steel rectangular legs may be fitted at a fixed height or alternatively height adjustable version is available by the use of telescopic mechanism, this may be adjusted manually. This ergonomic solution enhances the flexibility of the system and provides extra comfort to its users, who can adjust their workstations according to individual needs.
Table legs made of wood create discreet charm in every space. Simple in form, they emphasize the beauty and functionality of individual pieces of furniture. Wooden legs intended for veneered tabletops are complementary in the SQart collection. In the case of wooden legs the ID plate has a veneered insert in the colour of the tabletop.
"O-legs" are an attractive variation of support elements. They look considerably more subtle than traditional legs, giving a delicate, light and modern impression. They in no way restrict the functionality of the system.
"C-legs" introduce a typically office-like character to any space. In effect what is achieved in workstation ergonomics is plenty of space for the worker both under and around the table. Mechanical or electromotive mechanism allows the adjustment of the tabletops at any height.
Aesthetically pleasing arrangement
Slab-end desks provide a simple and elegant way to complete your office space. They allow for any configuration to be created
to provide functional space.
One pedestal – three different functions
For all places where limited space is available, the Orga Tower will be your best option. It can replace one of the desk legs also serves as a dividing panel. It is also a useful storage for daily office items. Spacious and well-designed it is both an attractive and economic solution for various office space.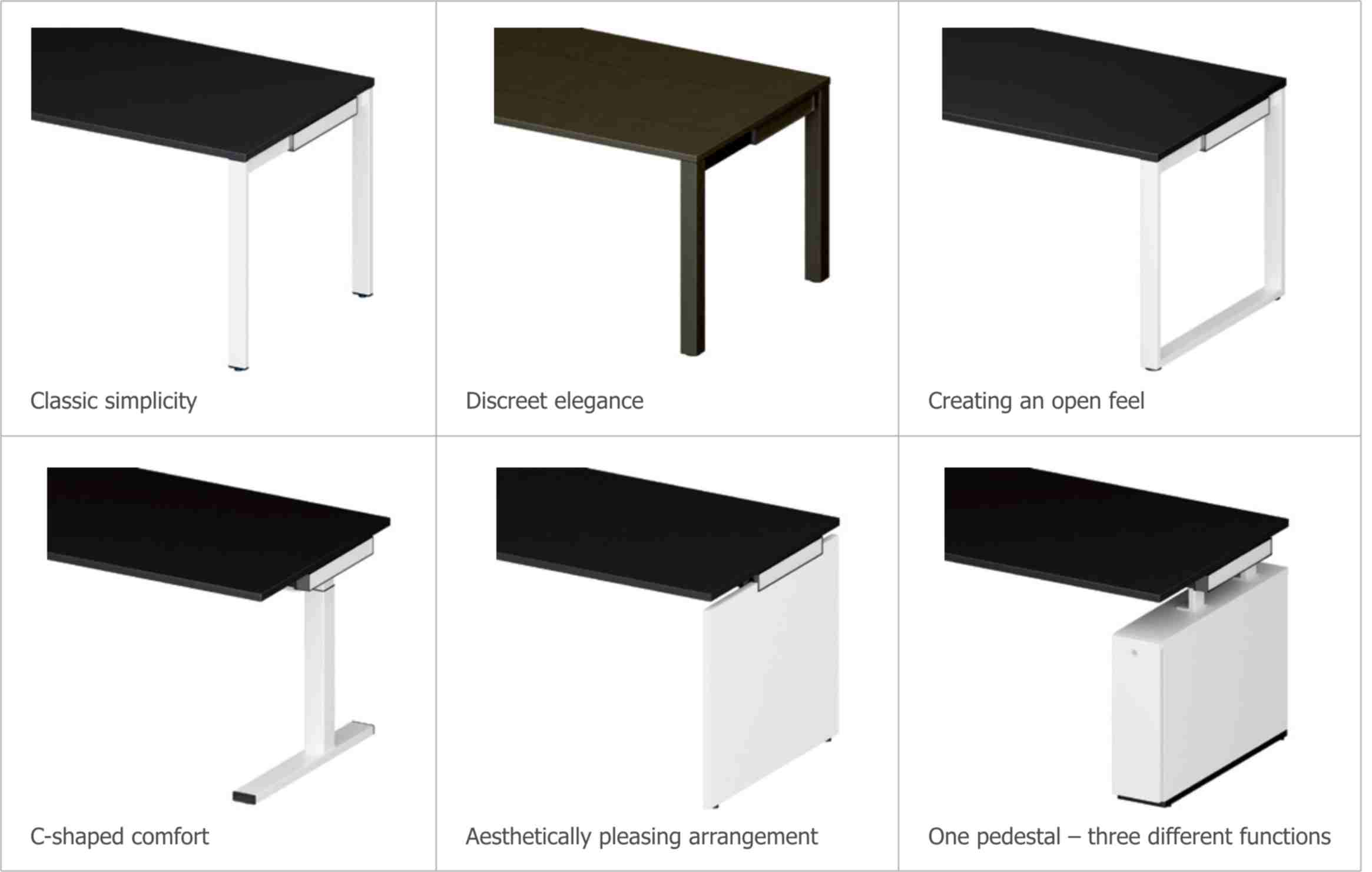 The main characteristic of the SQart system is the availability of a wide variety of desktop shapes and sizes, which can be used in plentiful designs and arrangements. The desktops are made 25 mm thick, veneered or double side laminated chipboardof (class E1). A frame, which is fitted to the desktop, is the basic construction element of the desks. The design of the frame allows the use of a sliding desktop for selected desk shapes (rectangular, sloped, wave or wing desks). The legs, wire trunking, desk extensions and the third working level panels are fitted directly to the frame, making the assembly or any required disassembly of a workstation a pleasant and easy task. This method also eliminates any possible damage to the parts made of chipboard. The ID plate with a replaceable insert is common throughout the range, which in a standard model comes in the colour of the desk legs. The ID plate may also serve the identification purposes for each individual workstation or the entire department.
It is difficult to imagine a complete office furniture system without conference tables. The SQart system offers conference tables on wooden legs as a supplement to executive furniture, or on metal legs that complement the regular office furniture. The conference tabletops are made of 25 mm veneered or double side laminated chipboardof (class E1).
Desk extensions are used to expand the office workspace. They are fitted directly to the desk frame, and have three types of base: two metal legs, a slab-end and C-leg.
All panels in the SQart system are made of 18 mm chipboard. The table panels have an aluminum profile, for hanging the pinable notice or magnetic boards with space organizing frames. The space organizing frame has three types of inserts. All elements of the third working level have been designed to serve the improved organization of office accessories.
There are 2 basic pedestal models: mobile pedestals (57.5 cm high) and desk high pedestals (72 cm high). The mobile pedestals are available in 4 or 5 castor models. The free standing items have 3 independent base models: metal plinth, 4 feet and 4 feet with additional 5th castor. The additional castor is for the models (both, mobile and fixed) with a bottom drawer for files. All pedestals are made of 18 mm thick veneered or double side laminated chipboard (except from the top of the free standing one – 25 mm thick).
All pedestals have metal drawers with a central lock, soft closing system and anti tilt. The filing drawers are fully extendable and can be opened by the use of the side opening.
SQart includes a wide range of various types of cabinets and upper-cabinets. In the portfolio you will find sliding door, tambours, hinged double door, hinged glass double door, open-shelving, wardrobe and lateral drawer cabinets. The cabinets are made of 18 mm veneered or double side laminated (class E1) chipboard. The back panel is made of 12 mm chipboard class E1. The glass door is made of satin glass and the tambour fronts of plastic. The hinged door cabinets are equipped with fast-assembly hinges with an easy adjustability function and soft closing system. The metal drawers and the frames for files are fully extendable. All cabinets have two types of base: either a metal plinth or feet.
Caddy
– multifunctional mobile units. The tops and shelves are made of 25 mm chipboard veneered or laminated on both sides. The carcase is 18 mm thick. Their door opening system is based on a push-to-open mechanism and they are fitted with independent one-point locks.
Mobile tables
– designed for working in a sitting or standing position. The square or round tops are made of 25 mm chipboard class E1. The tables are equipped with brake castors. Pneumatic height adjustability is an option.

More Information in the Catalog

We develop 2D and 3D visualization of functional plans of premises according to the size of the room and according to your needs and desires.

For furniture configurations, please write to info@city-office.lv
We are Members of the Electronic Procurement System EIS
Laminate, melamine, veneer, metal, glass, plastic