In every company, the reception desk is the first representative zone and access point for information and communication. Here, the company's image and culture are revealed to both customers and staff.
EasySpace

Back
Easy Space is such a universal system that some units can even be used create reception desks. Reception desks are a place for both customers and employees and can be crucial for the communication and exchange of external and internal information. Easy Space ensures comfort and order, building the trust of customers visiting your office.
Panels
Table panels are attached to the desks and come as upper, modesty and receptions versions. They enlarge the working space on the desk top with an optional pinboard surface and also serve the purpose of visual and acoustic protecion.
Modesty panels are made of 12 mm fine chipboard class E1, melamined double – coated.
Upper and reception panels are made of 18 mm fine chipboard class E1, melamined double – coated.
The pinboard surface is made of 8 mm upholstered soft fibreboard.
More about technical parameters office furniture system EasySpace.

Panels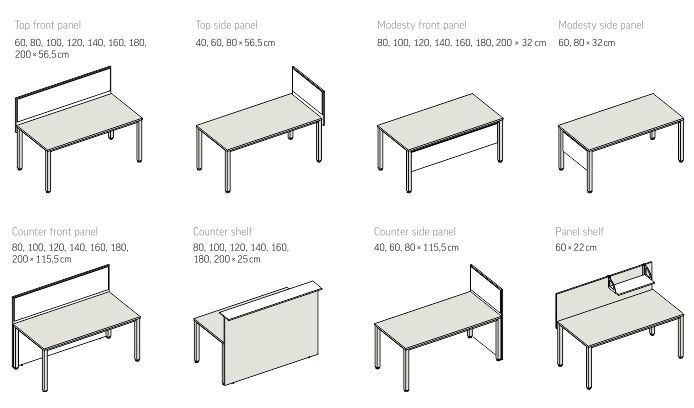 Panels are designed to connect to the EasySpace desks. See EasySpace office furniture desks.