OFFICE TYPES, MODULES & AREAS:
For decades, the cellular office was the predominant office format in Europe. In the US, it was the open-plan office. These office concepts were challenged and further developed by new technologies, modified requirement profiles and companies' self-understanding.
It's no longer about the optimisation of individual workplaces; the focus is now on carefully considered comprehensive building concepts — for different work situations and space utilisation scenarios. A decisive factor for success in office design is selecting the right office type for each company. It is an important selection process in the context of a requirement analysis, because every office layout offers different solutions in terms of communication, concentration, flexibility and efficient use of space.
A suitable office layout can only occur if planners and users work together to analyse and determine needs and requirements. Different influencing factors have to be considered when choosing an office type. The various perspectives and interests of those involved must be taken into account.
Selecting an office layout

Today, office design focuses on people and their communicative behaviours. Interpersonal contact is promoted, creating a motivating work environment. The optimisation of the individual workplace is no longer in the foreground; instead, a sophisticated and integrated building concept is in demand – for different office scenarios. In the meantime, people have realised that the selection of an appropriate office layout has a decisive influence on employee performance and motivation. This makes office layout a factor for success in office design. Every office type offers different approaches to finding solutions in terms of communication, concentration, flexibility and efficient use of space. The idea is to find the right solution for individual needs.



cellular office, combination office, team office, open office.
CELLULAR
o
ff
ice:
is characterised by stringing together single and multi-person offices along the building's facade; a common corridor provides access. The cellular office is particularly well-suited for companies that want to support autonomous work that requires concentration and facilitate confidential meetings. Offices with a door are still regarded today as a status symbol. A relatively low maximum occupancy rate is taken into account in this type of office.
A

utonomous, focused work

Confidential meetings

Status
COMBINATION
o
ff
ice:
Combination of standardised one- and multi-person offices for focused work, with significantly reduced floorspace. Communication occurs in the interior multi-functional shared area (central area). Hallway walls are transparent in order to provide the central area with natural light. The central zone also serves as the central meeting point for exchange, interaction and support areas. In combination offices, people switch frequently between individual work requiring concentration and communicative project or team work. The maximum occupancy rate is greater than in the cellular office.
Focused work

Communication in the central zone

Transparency: Visual contact possible thanks to central break-out area

Standardised configuration

For frequent shifts between focused individual work and more communicative project or team work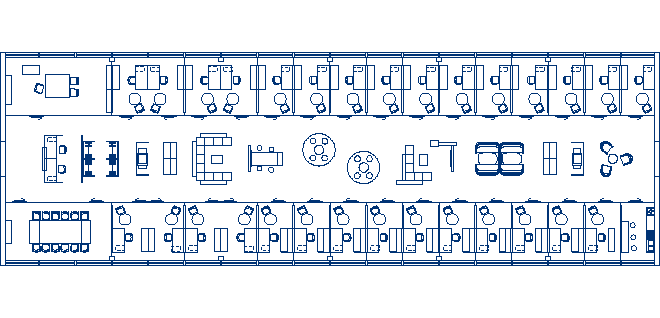 TEAM
o
ff
ice:
In the team office, there is a mix of office layouts within the office floor or building. The focus is on the variability and flexibility of office layouts. Designed to be partially open and transparent, or modified at short notice for a company's special requirements. It is suitable for a wide array of work, such as team building and structuring, project work, concentration, and communication. The maximum occupancy rate is also somewhat higher for this office layout.
High flexibility

Mix of office types

Team building and organisation

Project work

Concentration

Communications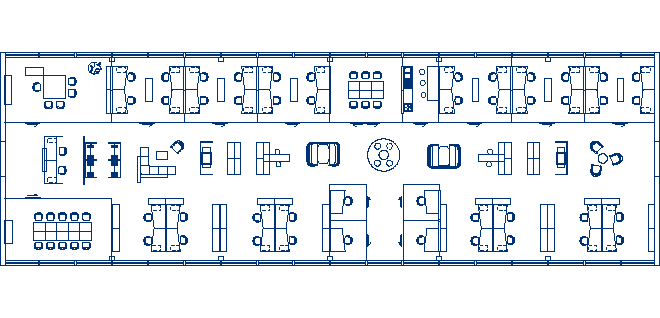 OPEN
o
ff
ice:
Brings together the advantages of several office forms in open-plan application scenarios. Communication and the quality of interaction become the focus without mitigating privacy and the opportunity to concentrate. Employees choose the zones and areas that are best suited to their activities. Space efficiency is achieved with compacted, non-territorial workplace areas.
Efficient use of space

Flexibility in open-plan application scenarios

Mix of open-plan, group and combination offices

Openness and exchange of knowledge

Concentration

Communications

Quality of interaction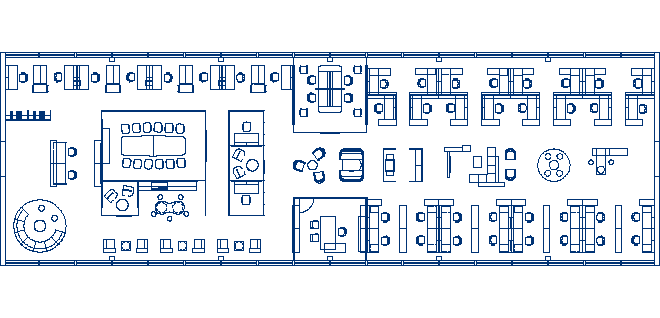 One & two person office (cellular office), Secretarial office, Reception & Waiting area. Open space office, Call centr, Archiving, Conference room & Seminar, Workshop
One & two person office (cellular office):
Office.

Analysis of the organizational structure of the company, its expectations and opportunities, you can arrange a professional workspace . Accumulated knowledge is personal approach to each area . In this way we ensure freedom of action to employees , which translate into quality of their work .
-
Chairs: Perfo, Raya, UWU, Arca, Plus New
Office manager

. A manager is a place -specific , individual . Entered into the organization 's an integral part thereof. Should be tailored to the nature of work associated with the function and rank . Well thought out , will actually share the space , giving you comfort and colleagues.
-
Furniture: Longplay, Luna, Oko Manager, Mirage Manager, Primo space Manager, Mixt
-
Chairs: One, FUN, FORMAT, Active, String
Executive office. This set has a high profile, shows values and personality. Where the threads come together, that's the place for management. Be equipped for success.

Communication, coordination, representation – all in one.

Privacy, discretion and confidentiality at the highest levels require an ambience of style and clarity. The chosen design language is less a backdrop than an unequivocal statement of corporate values and leadership philosophy. This is the source. Leaders today manage their employees' creative potential. The focus is on coordination, teamwork, communication and representation.
Systems for use:
-
Furniture: Tess, Xeon, Longplay Manager
-
Chairs: One, FUN, FORMAT, Active, Vector
The Secretariat is the heart of every company. This is where we put special emphasis on freedom of action in the field of information management , documentation and tools necessary to work in this position. It combines elements of accessibility and privacy. The competent organization of this area can compensate for both functions.
Systems for use:
-
Furniture: Box Office II, Manhatan pluss, Luna, Mirage, OKO, Longplay
-
Chairs: One, FUN, FORMAT, Active, String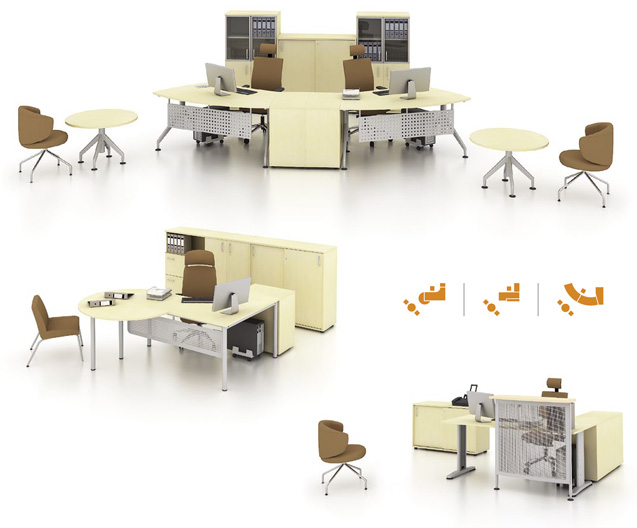 Reception & Waiting area:
First representation of the company. Focal point of the Corporate Identy. The company's culture is manifested and represented to staff members and visitors.
The reception:
a successful profile depends on the first impression. The reception is a place of first contact with the client 's organizational culture . Regardless of which occupies an area must meet the same function - to be properly organized , which give the possibility of cooperation with other organizations so that customers quickly and efficiently receive reliable information.
Professional design represents the company and demonstrates respect towards the visitor. The company's culture, image symbols, details and processes are imprinted in the memory of the person waiting.
Waiting is unintended non activity wich should not last very long.
Waiting area:
an invitation to see and be seen.
A good opportunity to glean first impression of the organisation, of its corporate identy – a show piece, an indicatorof what's ahead.
Systems for use:

-

Chairs: Perfo, Raya, UWU, Arca, Plus New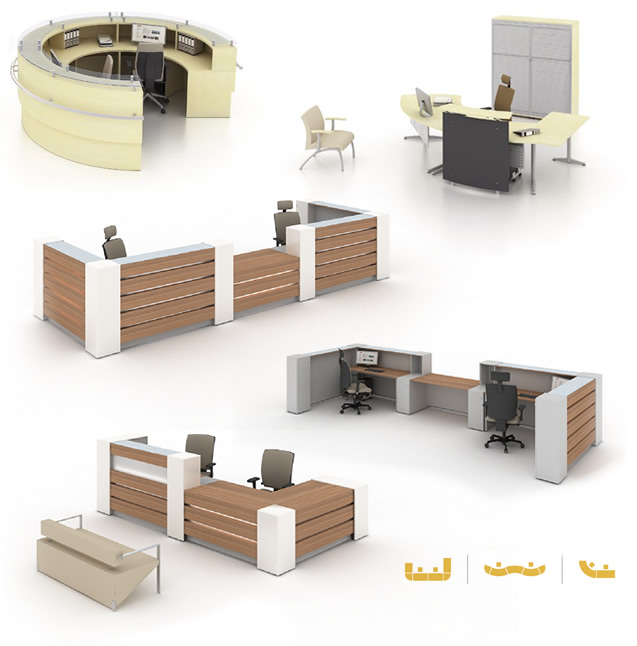 Open Space is a multi-purpose area . The organization of such an area requires an analysis of its place in the structure of the company. Since this depends on the design of groups of posts , islands, technical, common space and the open and closed roads. Proper space organization promotes cooperation and emphasizes individuality.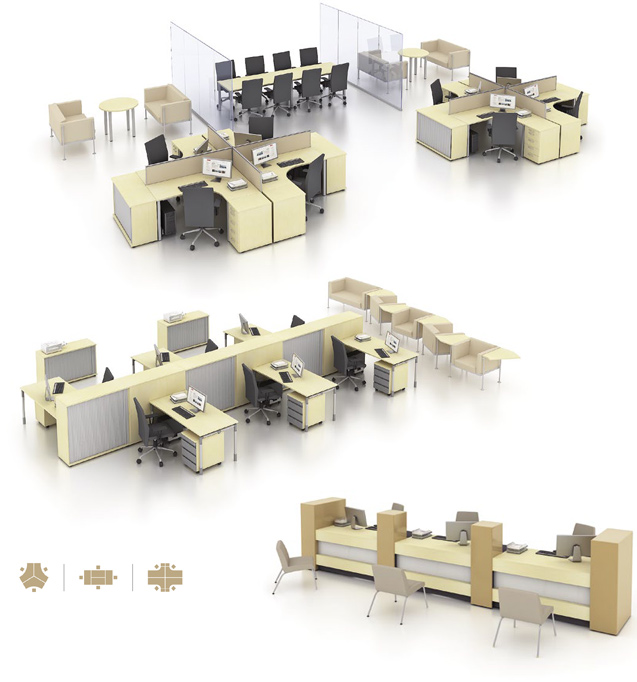 Call
Center
space is subordinated to a particular function. Assembly on the one surface of many jobs, ensuring access to ICT infrastructure , convenient transportation routes and the use of welfare facilities are basic requirements for the space of homogeneous labor .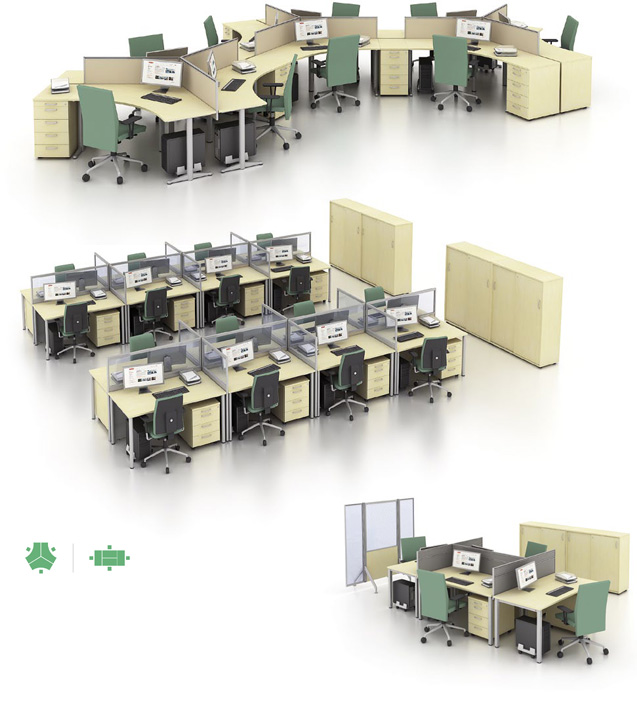 Archiving is closely linked with the rules governing the media on which data are recorded , the number of copies required , duration and location of their storage , available at various levels of management and to safeguard against access of unauthorized persons. Such information shall ensure the proper organization of work space.
Conference room & Seminar / Workshop:
The conference room is an area of meetings of various kinds. Place here are presentations , negotiations, training, and less formal meetings between companies . Freedom of action will ensure the appropriate selection of equipment - will meet the various needs and expectations of users of this multi-functional work area.